APLN at Jeju Forum 2020: Reinventing Multilateral Cooperation
APLN and Jeju Peace Institute's Special Online Sessions at Jeju Forum 2020
From 5-7 November, the APLN hosted four sessions at Jeju Forum on "Reinventing Multilateral Cooperation: Pandemic and Humane Security." Senior APLN members, including former Prime Minister of Australia Kevin Rudd, Retired Pakistani Army General Feroz Khan, former UN Under-Secretary General for Disarmament Issues, Ambassador Nobuyasu Abe and many leading experts discussed and debated four major security challenges while reimagining the means to address them.
Session 1: Meeting the Existential Threats of the Pandemic, Nuclear War, and Climate Change: Is Present Global and Regional Governance Fit for Purpose?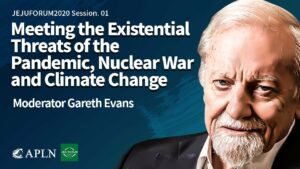 In the midst of a pandemic, relations between the US, China, and Russia are worse than they have been in the past three decades and nuclear conflict is an ever-present threat. This session focuses on how existential threats increase tensions and shape dynamics between countries whilst offering solutions to these problems. What is working and not working in the established global and regional governance systems? What kind of changes need to be made? How do domestic politics and hegemonic competition affect multilateralism? How can countries work together?
Panelists:
Gareth Evans, APLN Chair and Distinguished Honorary Professor of Australian National University (Moderator)
Dong-ik Shin, Former South Korean Ambassador to Austria
Kevin Rudd, Former Prime Minister of Australia
Mely Caballero Anthony, Professor at International Relations, Nanyang Technological University
Des Browne, Vice-President of Nuclear Threat Initiative
Watch the video here.
Session 2: Reinvigorating Nuclear Arms Control Agreements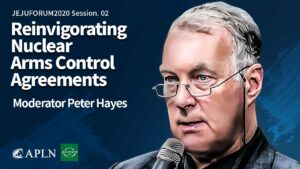 This year marks the 50th anniversary of the Treaty on the Non-Proliferation of Nuclear Weapons (NPT) entering into force. Yet, another consequence of COVID-19 is that the 10th Review Conference of the treaty originally planned for May 2020 has been delayed to next year. This presents an opportunity to revisit the NPT's original goals and consider how to revitalize its importance and effectiveness in the changing geopolitical climate. Panelists in this session discuss nuclear arms control agreements in light of the NPT Review Conference and address the following questions: Has the NPT been effective? Is a new focus on the Treaty on the Prohibition of Nuclear Weapons merited? What of the Hiroshima Urgent Appeal, signed last summer, calling for a renewed commitment to international arms control and disarmament?
Panelists:
Peter Hayes, Director of Nautilus Institute and APLN Research Director (Moderator)
Nobuyasu Abe, Former UN Under-Secretary General for Disarmament Issues
Des Browne, Vice-President of Nuclear Threat Initiative
Sook Kim, Former Korean Ambassador to UN and currently Chairman, Strategic Planning and Coordination Committee, National Council on Climate and Air Quality
Ramesh Thakur, Emeritus Professor of the Australian National University
Watch the video here.
Session 3: Achieving a Nuclear Weapons Free Zone in Northeast Asia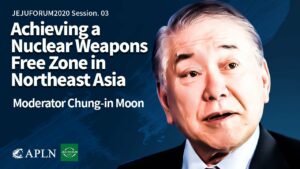 Northeast Asia and the DPRK presents a uniquely dangerous nuclear flashpoint. Since the failure of the US-DPRK summit in Hanoi, the situation has begun to look intractable. One suggested solution would be forming a nuclear weapon free zone (NWFZ) in Northeast Asia, relying on a multilateral treaty to guarantee that they would not use or threaten to use nuclear weapons against states without nuclear weapons. Non-nuclear-weapon states would commit to remaining nuclear free, and in return, North Korea would commit to nuclear disarmament. This session examines the promise of and the barriers to a NWFZ in Northeast Asia and will addresses the following questions: How plausible is a NWFZ? What institutional and political barriers stand in the way, and how might they be addressed? How could multiple stakeholders be effectively mobilized towards this end? Would it be better to seek a North Korean nuclear deal first, that could serve as a launch pad into a broader NWFZ, or is an NWFZ itself the optimal solution to the North Korean problem?
Panelists:
Chung-in Moon, Chair of Sejong Institute and APLN Vice-Chair (Moderator)
Shen Dingli, Professor at Institute of International Studies of Fudan University
Tatsujiro Suzuki, Vice Director and Professor at the Research Center for Nuclear Weapons Abolition of Nagasaki University
Bong-geun Jun, Professor of the Korea National Diplomatic Academy
Peter Hayes, Director of Nautilus Institute and APLN Research Director
Watch the video here.
Session 4: The China-India-Pakistan Nuclear Triangle
The unresolved territorial dispute between India and Pakistan has already resulted in one nuclear power attacking targets within the territory of another. Some argue that this poses the gravest threat of nuclear war on Earth. In addition, China, a Nuclear Weapon State, also plays a significant role the region and in relations with and between these two countries. This three-player game results in a very different kind of deterrence relationship. This session assesses the complex interrelations of the three countries' geopolitical dynamics and nuclear strategies from multiple perspectives and addresses the following questions: How will the US-China strategic rivalry influence India and Pakistan? Are there multilateral solutions available to this thorny multilateral problem? How can international organizations such as the UN play a role in safeguarding the peace in the region? Are arms control agreements between the three nations plausible, and if so, what actions can be taken to seek them?
Panelists:
Ramesh Thakur, Emeritus Professor of the Australian National University (Moderator)
Tong Zhao, Senior Fellow, Carnegie-Tsinghua Center for Global Policy
Manpreet Sethi, Distinguished Fellow, Centre for Air Power Studies
Feroz Khan, Retired Pakistani Army General
Sang-hyun Lee, Senior Research Fellow at the Sejong Institute
Watch the video here.