Members of the International Group of Eminent Persons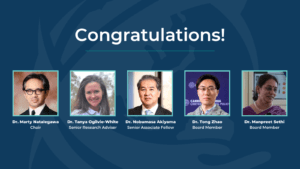 We are pleased to announce that Japanese Prime Minister Kishida Fumio has selected several APLN members and staff to serve as members of Japan's International Group of Eminent Persons for a World Without Nuclear Weapons. The decision by Prime Minister Kishida was made official on Friday 2 December. Board Chair Marty Natalegawa, Senior Research Adviser Tanya Ogilvie-White, Board Member Tong Zhao, and members Manpreet Sethi and Akiyama Nobumasa will all participate in this distinguished panel of experts.
From Japan's Ministry of Foreign Affairs:
Prime Minister KISHIDA Fumio announced the establishment of the IGEP as a forum in which participants from both nuclear and non-nuclear-weapon States will, aided by the involvement of incumbent and former political leaders around the globe, exchange ideas and thoughts beyond their respective national positions and engage in candid discussions concerning a concrete path towards the realization of a world without nuclear weapons.
Professor SHIRAISHI Takashi, Chancellor of the Prefectural University of Kumamoto, will chair the IGEP which consists of 15 members. There will be 3 Japanese members including Professor SHIRAISHI while there will be 12 non-Japanese members including those from both nuclear and non-nuclear-weapon States.
The 15 members held their first meeting in Hiroshima on 10-11 December 2022. Prime Minister Kishida was in attendance to deliver remarks at the closing ceremony. Former United States President Barack Obama delivered a video message.
The chosen members of the international group include:
Shiraishi Takashi (Chair), Chancellor, Prefectural University of Kumamoto
Angela Kane, Former Under-Secretary-General and High Representative for Disarmament Affairs of the United Nations
Rose Gottemoeller, Former U.S. Under Secretary of State for Arms Control and International Security Affairs
Takamizawa Nobushige, Visiting Professor, Graduate School of Public Policy, the University of Tokyo
George Perkovich, Vice President for studies at the Carnegie Endowment for International Peace
Gustavo Zlauvinen, President of the 10th NPT Review Conference
Ian Anthony, Programme Director, European Security, Stockholm International Peace Research Institute, SIPRI
Bruno Tertrais, Deputy Director, Foundation for Strategic Research
Dina Kawar, Ambassador of the Hashemite Kingdom of Jordan to the United States
Raden Mohammad Marty Muliana Natalegawa, APLN chair, Former Minister for Foreign Affairs of Indonesia
Manpreet Sethi, APLN member, Distinguished Fellow, Centre for Air Power Studies
Akiyama Nobumasa, APLN member, Dean, School of International and Public Policy, Hitotsubashi University
Tanya Ogilvie-White, Research Director, Asia-Pacific Leadership Network for Nuclear Non-proliferation and Disarmament
Anton Khlopkov, Director of Center for Energy and Security Studies (CENESS)
Tong Zhao, APLN board member, Senior Fellow, Carnegie Endowment for International Peace; Visiting Research Scholar, Princeton University
Image: Courtesy of the Japanese Prime Minister's Office