Nuclear Nonproliferation and Security Symposium 2021
On May 26 (Wed) and May 27 (Thu), 2021 from 09:00-13:30 KST, Korea Institute of Nuclear Nonproliferation and Control (KINAC), one of the good partners of APLN, hosted an international symposium with experts across the region including four APLN members. Marking the 50th anniversary of the Treaty on the Non-Proliferation of Nuclear Weapons (NPT) from last year, the event was held under the theme of "Sustaining the NPT for 50 more Years", and explored the achievements and challenges of the NPT.
Featured APLN experts:
Prof. Chung-in Moon, Chairman of Sejong Institute and Vice-Chair of APLN.
Dr. Tong Zhao, Senior Fellow at the Nuclear Policy Program of the Carnegie Endowment for International Peace, based in Beijing at the Carnegie–Tsinghua Center for Global Policy.
Prof. Bong-geun Jun, Professor at the Department of Security and Unification Studies in the Korean National Diplomatic Academy(KNDA).
Prof. Tatsujiro Suzuki, Vice Director and a professor of the Research Center for Nuclear Weapons Abolition, Nagasaki University (RECNA).
Please see below or download the PDF for the program agenda and detail information.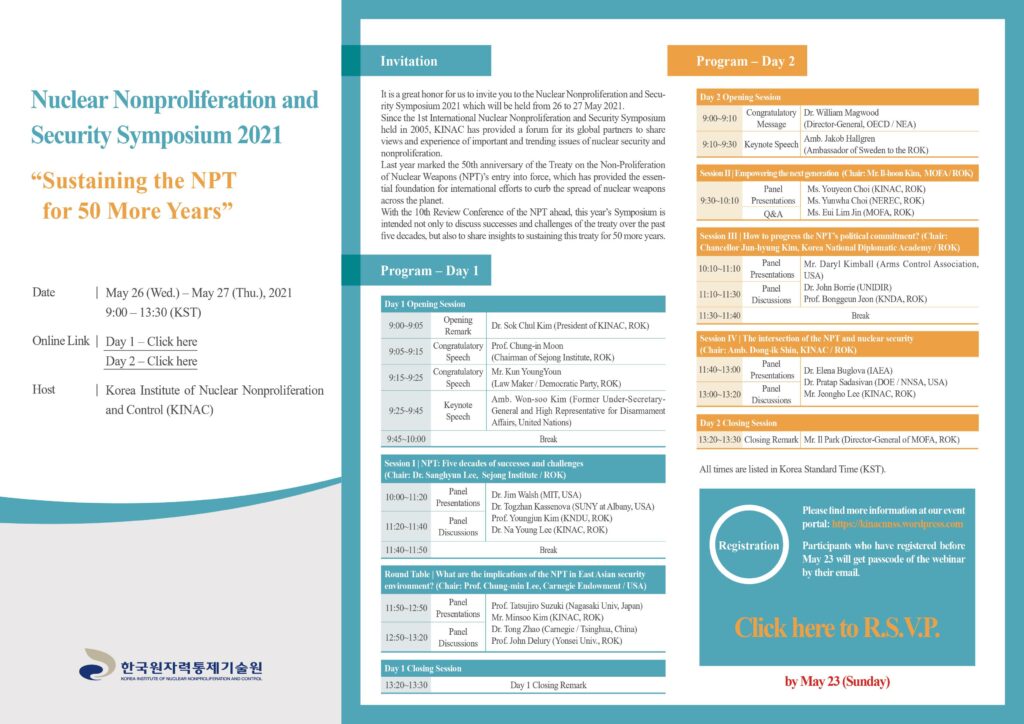 Image: KINAC