Defence Diplomacy Emerges as an Indispensable Tool for Maintaining Peace, Stability: BIPSS President
BIPSS
APLN member Iftekhar Ahmed Chowdhury, former foreign advisor of the Bangladesh Ministry of Foreign Affairs, spoke at a roundtable arranged by the Bangladesh Institute of Peace and Security Studies (BIPSS) on the significance of defence diplomacy. Read the original article here.
Defence diplomacy has emerged as an indispensable tool for maintaining peace stability in an increasingly interconnected world where global challenges and threats transcend borders, said Bangladesh Institute of Peace and Security Studies (BIPSS) president Major General (Retd) ANM Muniruzzaman on Sunday.
This form of diplomacy involves the strategic use of military and security assets, not for aggression, but as instruments of cooperation, collaboration, and conflict resolution, he said while speaking at a roundtable in the capital.
"One might question why we need defence diplomacy when traditional diplomacy already exists. The answer lies in understanding the unique nature of security challenges and how defence diplomacy complements traditional diplomatic efforts," said the BIPSS president.
BIPSS hosted the roundtable on 'Defence Diplomacy: A Powerful Tool of Statecraft' at a Dhaka hotel.
The speakers of the event were Iftekhar Ahmed Chowdhury, distinguished fellow, BIPSS and former foreign advisor, Ministry of Foreign Affairs, Bangladesh and Air Vice Marshal Mahmud Hussain (retd), former ambassador and distinguished expert, Bangabandhu Sheikh Mujibur Rahman Aviation and Aerospace University (BSMRAAU).
Ambassadors and diplomats based in Dhaka, government officials, defence personnel, academician, journalists, and scholars joined.
Iftekhar Ahmed Chowdhury said there is no universal definition of defence diplomacy in international relations as it adjusts differently in different circumstances.
"Although the concept lies in Western origin, Asian perspective is added to it as more and more countries are harnessing defence diplomacy in their national strategies. 'Defence diplomacy goes beyond offensive, defensive or other forms of coercive forces," said Chowdhury.
He said it can simultaneously embrace both the characteristics of hard power and soft power.
"However, it varies from state to state. In example, he mentioned the case of the US, which often relies on the hard power defence diplomacy where use of force including sanctions is evident while China inclines more towards soft power."
With the increasing number of issues like, extremism, maritime piracy, climate change, migration, the foreign ministry cannot solely handle them all, he said.
According to Air Vice Marshal Mahmud Hussain, defence diplomacy as a tool of statecraft is very significant for Bangladesh.
Bangladesh has been a top-troop contributing country in UN Peacekeeping since 2012 and the fact that Sierra Leone has recognised Bengali as one of their official languages for such contribution is a proof that defence diplomacy has been successful, he said.
He emphasised the fact that diplomacy should not be based solely on political or foreign offices, but requires collaboration with military division.
During the interactive session, Chowdhury discussed about the necessity of balance procurements and diversification in defence diplomacy of Bangladesh.
Mentioning the case of Pakistan, he claimed that Pakistan balances its defence diplomacy with both the US and China very carefully according to its costs and adjustments and Bangladesh should also keep its options open rather than relying on one particular global power for defence cooperation.
He also mentioned that the role of ambassadors should not just revolve around representing the state or be ceremonial in nature but needs to be functional as well.
Focusing on realism, AVM Mahmud claimed that they must accept the fact that the more power a state has in global stage, the more contribution it makes in defence diplomacy and hence states must adjust accordingly.
Both the speakers agreed on the fact that, in case of protocol, it is wise to keep all the baskets open as overdependence in defence purchase can have a toll on Bangladesh.
Demonstrating the success story of Singapore and India in incorporating technology in defence diplomacy, the speakers recommend that Bangladesh can learn to improve its diplomatic stance in global stage.
The moderator and BIPSS president concluded the event mentioning that defence diplomacy is not a panacea, but it is an element in the pursuit of global peace and security.
By engaging in meaningful and constructive cooperation, nations can build bridges, resolve conflicts, and lay the groundwork for a safer and more prosperous world, he added.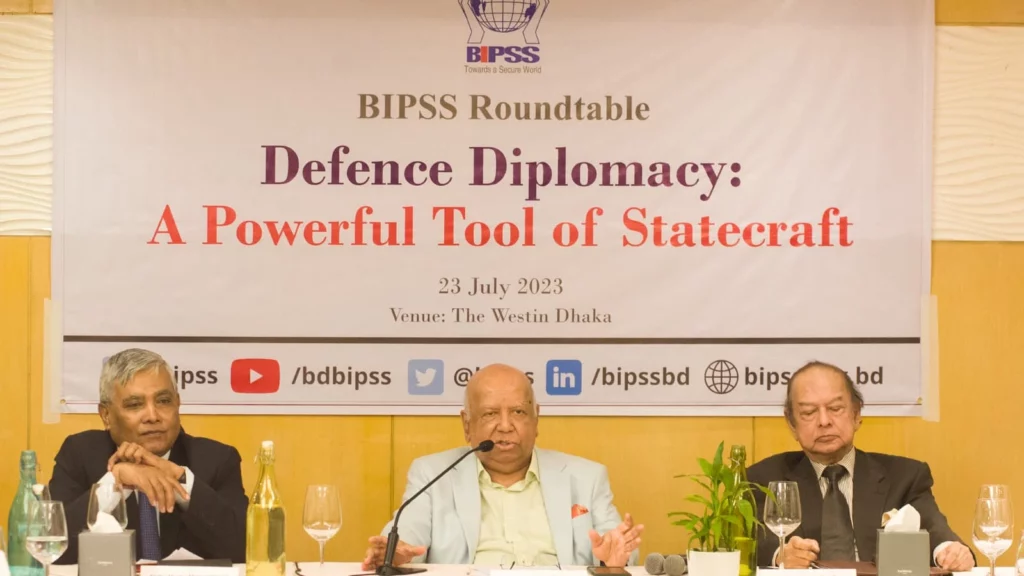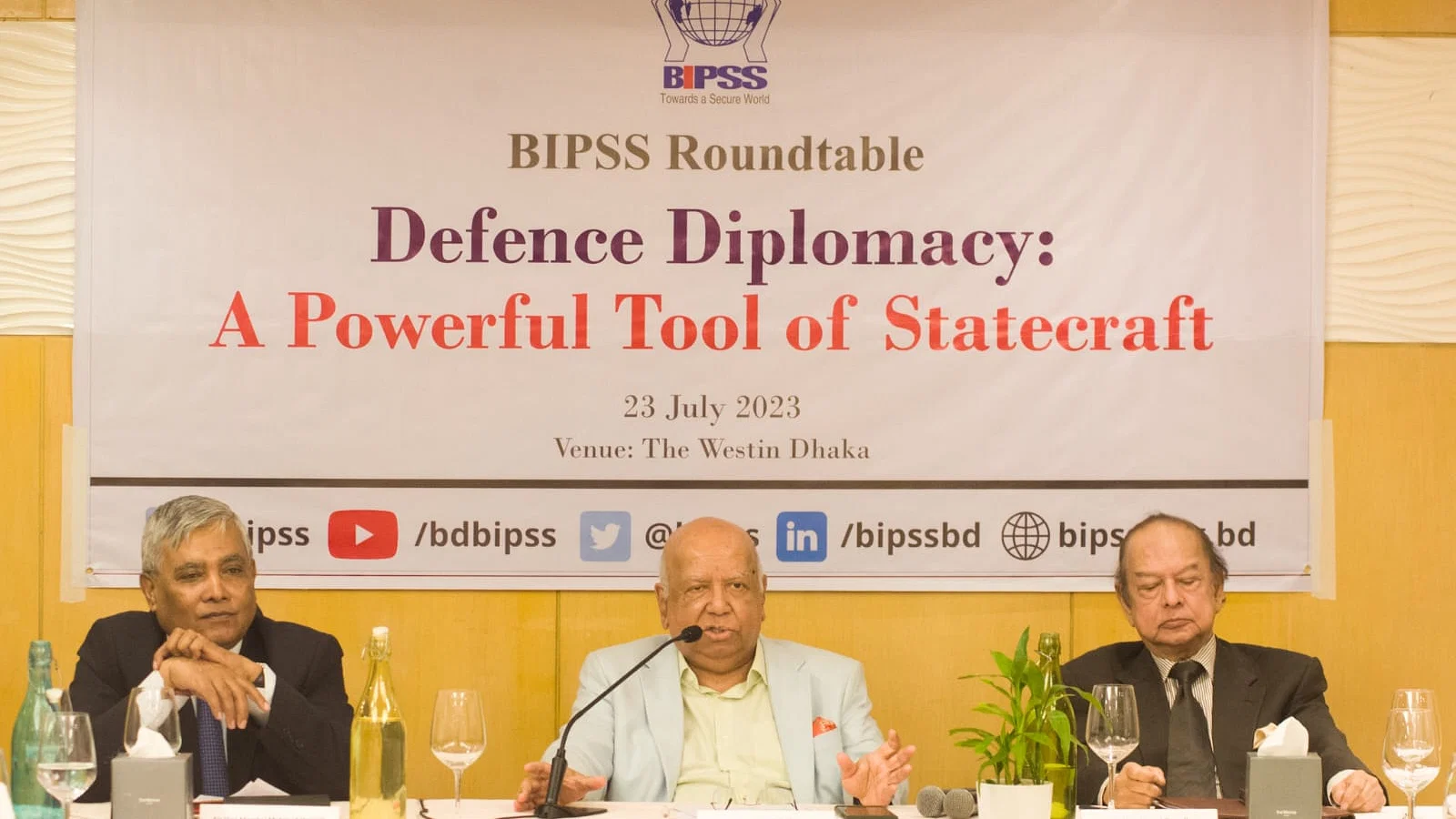 Image: Bangladesh Institute of Peace and Security Studies president Major General (Retd) ANM Muniruzzaman speaks at a roundtable on 'Defence Diplomacy: A Powerful Tool of Statecraft' at a Dhaka hotel on 23 July, 2023UNB