APLN at Jeju Forum 2023: Working Together for Sustainable Peace and Prosperity
APLN and East Asia Foundation's Special Session at Jeju Forum 2023
On 31 May – 2 June 2023, the annual Jeju Forum for Peace and Prosperity 2023 is going to be held focused on the theme of "Working Together for Sustainable Peace and Prosperity in the Indo-Pacific." 
On 1 June, APLN-East Asia Foundation convene two special joint sessions.
[Session 1] Dilemmas of Strategic Positioning: Indo-Pacific Strategy and the Future of ASEAN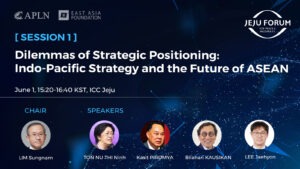 This session examines an abrupt change in regional strategic thinking from the Asia-Pacific to the Indo-Pacific, the idea being broadly adopted by the major players in the region including the U.S., Japan, South Korea, and particularly the ASEAN in their own vision. Against this backdrop, this session will be addressing the following topics: What are the perception and responses of ASEAN members to the Indo-Pacific strategy, especially the U.S.-led Indo-Pacific Economic Framework for Prosperity in line with the ASEAN Outlook on Indo-Pacific(AOIP)? Is the IPEF acceptable and justifiable? Aren't there any patterns of unity and division among ASEAN members over its Indo-Pacific strategy? What is your take on the disappearance of Asia-Pacific in the discourses on Indo-Pacific? What is a South Korean perception and interpretation of ASEAN moves on the Indo-Pacific strategy? Are there any options to harmonize Indo-Pacific and Asia-Pacific concepts?
Panelists:
LIM Sungnam, Former First Vice Foreign Minister (Moderator)
TON-NU-THI Ninh, President, Ho Chi Minh City Peace and Development Foundation
Kasit PIROMYA, Former Foreign Minister of Thailand
Bilahari KAUSIKAN, Former Permanent Secretary, Ministry of Foreign Affairs of Singapore
LEE Jaehyon, Senior Fellow at the Asan Institute for Policy Studies
[Session 2] The Age of Transformation?: Asia-Pacific vs. Indo-Pacific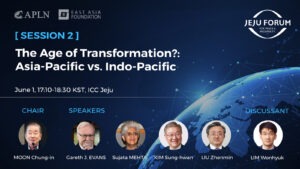 Immediately after the end of the Cold War emerged and flourished the geographic concept of Asia-Pacific, a long-held regional order that has brought countries in Asia, Oceania, and the American hemisphere closer based on open regionalism (e.g., APEC and various sub-regional FTAs) and cooperative security (e.g., CSCAP/ARF). Since the Trump administration, however, there has been an abrupt transition to the Indo-Pacific regional concept that has radically replaced the Asia-Pacific. Such transformation raises several interesting questions: Is the Asia-Pacific vision dead? Has the Indo-Pacific frame completely replaced the Asia-Pacific? What are strengths and weaknesses of two competing visions? Can they harmonize? How about Asia? How can the Indo-Pacific regional order deal with the 'disappearance' of Asia? This session will be addressing these philosophical and theoretical questions.
Panelists:
MOON Chung-in, Vice-Chair at APLN (Moderator)
Gareth EVANS, Former Minister of Foreign Affairs of the Commonwealth of Australia
KIM Sung-hwan, Chairman of East Asia Foundation
LIU Zhenmin, Former Under-Secretary-General for the United Nations Department of Economic and Social Affairs
Sujata MEHTA, Member of India's Union Public Service Commission
LIM Wonhyuk, Professor at KDI School
* Livestreaming of the sessions is not provided; however, we will ensure that the recorded sessions are made available for viewing afterwards. Should you be interested in attending the sessions in person, kindly reach out to Tyler Kim, Operations Manager, by sending an email to kimys@apln.network who will provide you with further details and assist with the necessary arrangements.