APLN Welcomes New Network Members
This month, APLN warmly welcomes 19 new members to its network:
Professor Yim Man-Sung (South Korea), Professor at the Korea Advanced Institute of Science and Technology (KAIST).
Ms. Charadine Pich (Cambodia), Deputy Executive Director of the Cambodian Institute for Cooperation and Peace (CICP).
Professor Sarah Teo Li-Shan (Singapore), Assistant Professor at the S. Rajaratnam School of International Studies (RSIS), Nanyang Technological University, Singapore.
Professor Sandra Tarte (Fiji), Associate Professor and Acting Head, School of Law and Social Sciences, University of the South Pacific, Suva, Fiji.
Ms. Hoang Thi Ha (Vietnam), Senior Fellow and Co-coordinator of the Regional Strategic and Political Studies Programme at ISEAS – Yusof Ishak Institute.
Ms. Elina Noor (Malaysia), Senior Fellow, Carnegie Endowment for International Peace, Washington DC
Mr. Malinda Meegoda (Sri Lanka), Researcher, Verité Research, Colombo
Dr. Rabia Akhtar (Pakistan), Founding Director of the Centre for Security, Strategy and Policy Research at the University of Lahore
Dr. Stefanie KAM Li Yee (Singapore), Assistant Professor at the China Programme, Institute of Defence and Strategic Studies at Nanyang Technological University
Amb. Lucky Sherpa (Nepal), Former Nepali Ambassador to Australia and New Zealand (2017-2019)
Prof. Cheng-Chwee Kuik (Malaysia), Professor of International Relations and Head of Asian Studies at the Institute of Malaysian and International Studies (IKMAS), National University of Malaysia (UKM)
Dr. Lina Gong (China), Research Fellow at the Centre for Non-Traditional Security Studies, S. Rajaratnam School of International Studies, Nanyang Technological University (NTU)
Amb. Kitti Wasinondh (Thailand), former Thai Ambassador to the UK
Dr. Lina Alexandra (Indonesia), Head of Department of International Relations and Senior Researcher at the Centre for Strategic and International Studies (CSIS)
Prof. Choi Jong Kun (South Korea), Professor at the Department of Political Science and International Studies at Yonsei University
Dr. Meenakshi Gopinath (India), Founder and Director of Women in Security, Conflict Management and Peace
Dr. Natalie Sambhi (Australia), Founder and Executive Director of Verve Research
Dr. Pramod Jaiswal (Nepal), Research Director at Nepal Institute for International Cooperation and Engagement
Dr. Vijay Naidu (Fiji), Adjunct Professor in the disciplines of Development Studies and Governance in the School of Law and Social Sciences at the University of the South Pacific (USP)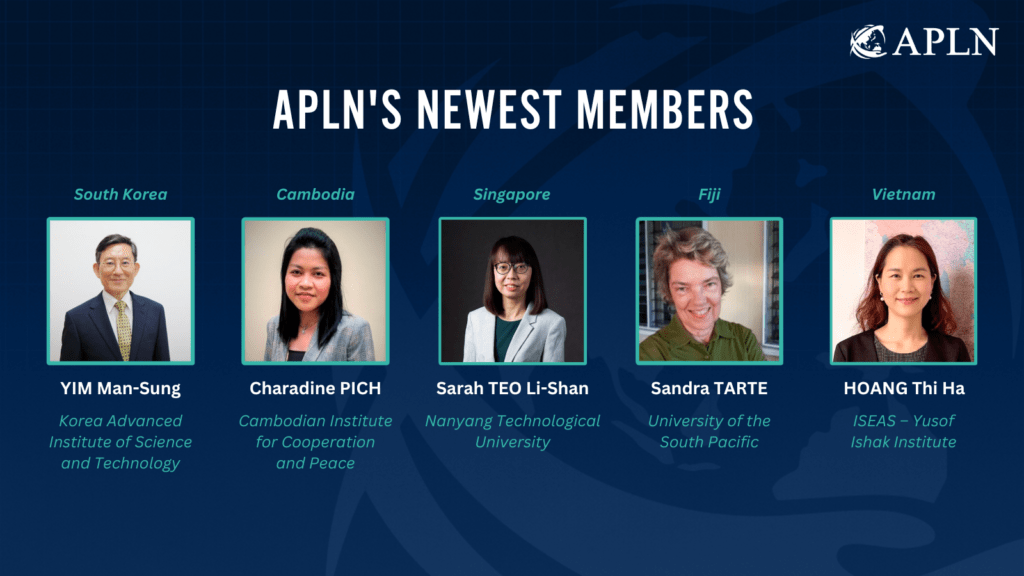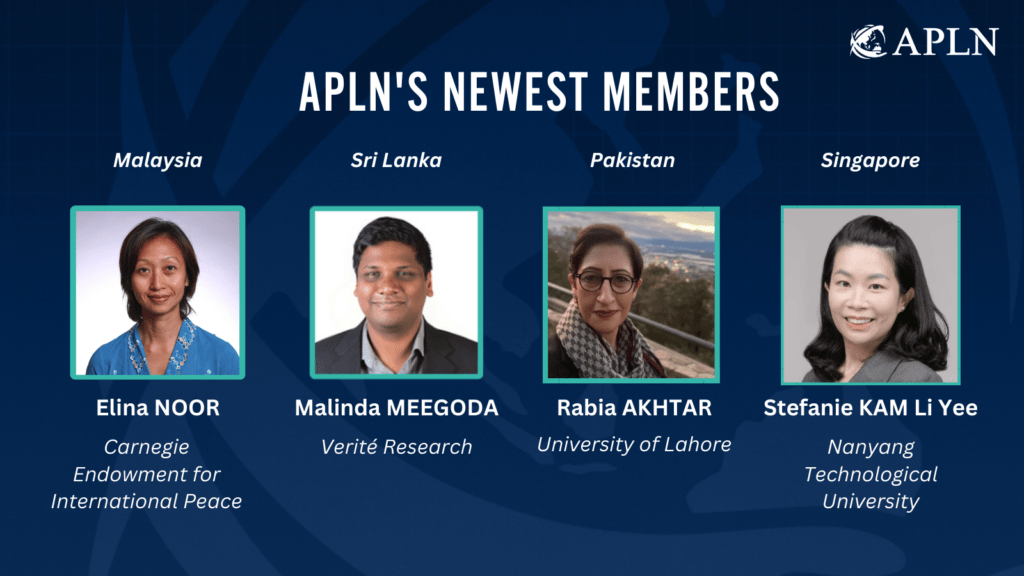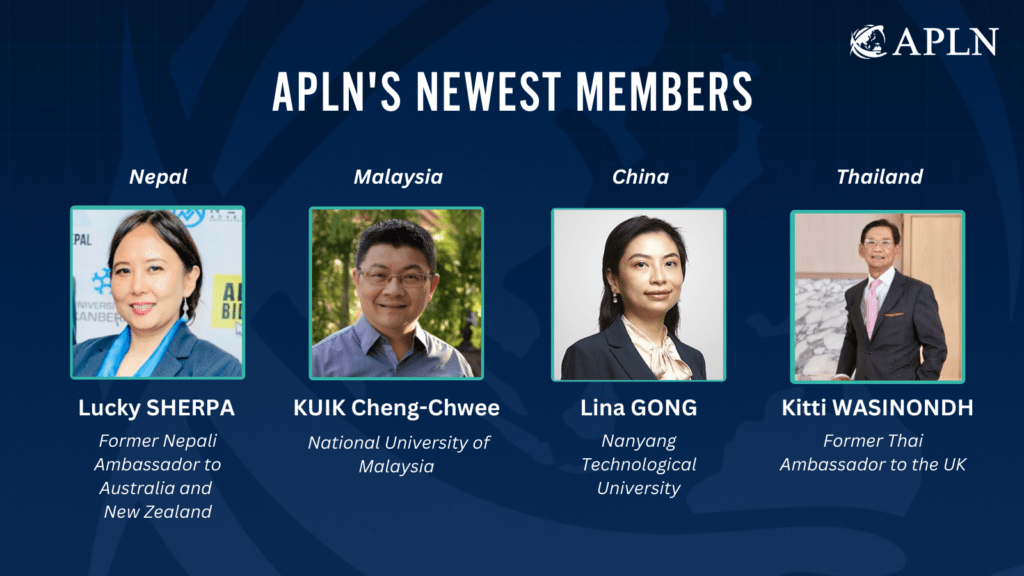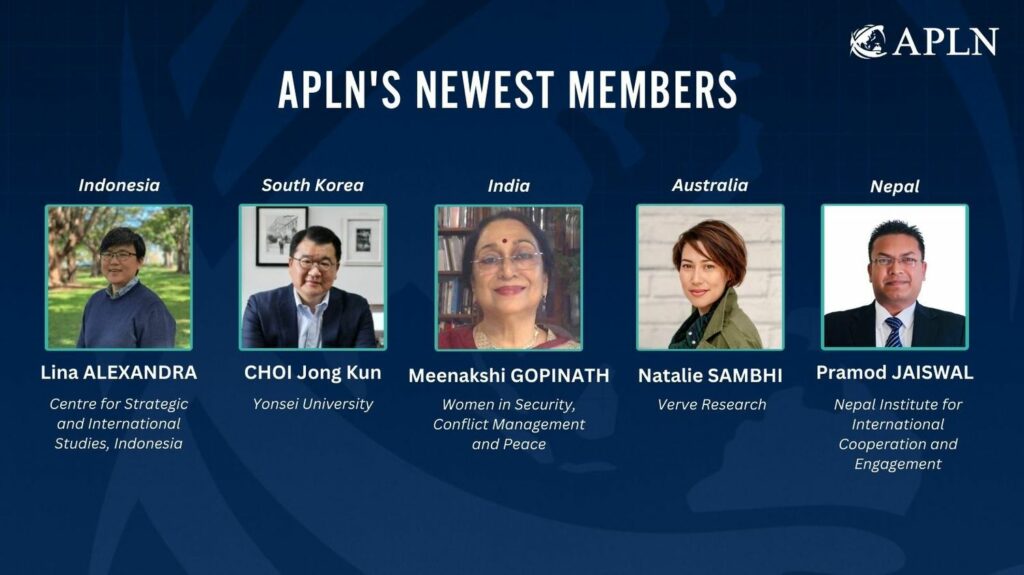 The APLN is working hard to expand our network across the Asia Pacific region, improve engagement and diversity on gender, race, age, and nationality. We recognise that we have much work to do but are working hard to do better. The wealth of expertise and experience of our newest network members increase APLN's reach and engagement with governments across the region, increasing its policy impact and effectiveness.
The APLN network is comprised of political, military, diplomatic and thought leaders who work to address the security challenges in the Asia-Pacific region with a particular focus on nuclear non-proliferation, risk reduction and disarmament. APLN members contribute to security policy debates through writing articles, papers, and group statements, engaging in direct discussions with regional governments, and debating the issues in public and private events.