APLN Welcomes New Chair and Board Members
Following the APLN General Members Meeting and Board Meeting on September 9, 2021, APLN bid goodbye to former Chair the Hon. Gareth Evans and welcomed Dr. Marty Natalegawa as its new Chair. Two new members, Ms. Angela Woodward (New Zealand) and Madam Ton Nu Thi Ninh (Vietnam) were also welcomed into the Board of Directors.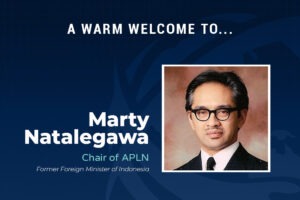 Dr. Marty Natalegawa served as Foreign Minister of the Republic of Indonesia between 2009-2014. He began his career with the Department of Foreign Affairs of the Republic of Indonesia in 1986. As Foreign Minister, he oversaw Indonesia's emergence as a regional power with global responsibilities.
He served as Permanent Representative of Indonesia to the UN in New York (2007-2009), coinciding with Indonesia's membership of the Security Council and he was also the President of the Security Council in November 2007, as well as Chair of the UN Special Committee on Decolonization.
Dr. Natalegawa takes over the Chairpersonship from the Hon Gareth Evans.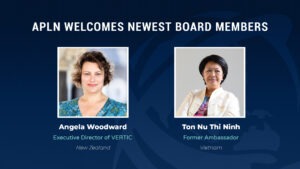 The APLN welcomes two new members to its Board of Directors, Ms. Angela Woodward (New Zealand) and Madam Ton Nu Thi Ninh (Vietnam).
Angela Woodward is Deputy Executive Director of the Verification Research, Training and Information Centre (VERTIC). She has worked in the arms control and disarmament field since 1998, specializing in monitoring, verification, and compliance issues.
Ton Nu Thi Ninh has served as a diplomat for more than two decades, specializing in global issues and multilateral institutions. In her capacity as a diplomat, an elected official, and currently an educational and sociocultural ambassador and facilitator, Madam Ninh has consistently worked to build bridges of understanding and cooperation between Viet Nam and the rest of the world.