APLN's Spring Internship Completion Event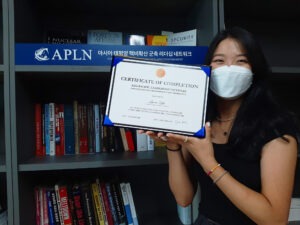 On 12 August 2021, the APLN held an internship completion event to commemorate the end of the Spring and Summer internship programs. In a brief ceremony, APLN research intern Lauren Kim was presented with a certificate for the successful completion of her internship. In the essay below, she reflects on her experience as an intern at APLN.
Reflection of My Internship Experience at APLN
By Lauren Kim
As the summer heat in Seoul slowly starts to subside and my fall semester looms just around the corner, I look back on my brief yet fruitful experience as a Research Intern at APLN.  
As most of the past year and a half was spent during the COVID pandemic, my past five months as a part of APLN flew by in the blink of an eye. While I worried at first that my limited background in nuclear policy would be a setback for me as an intern, the policy fellows and other staff members helped to assure me that all I needed to succeed at APLN was an open mind and an eagerness to work hard and learn. From my first day at work, I was given a variety of hands-on tasks and was immediately immersed into the flurry of the projects pursued by the APLN, with guidance from the other staff helping along the way. Regardless of my non-IR background and limited knowledge, I was constantly given the opportunity to be fully involved in the process and to learn as I went. While I did join APLN as a research intern, I was given the chance to explore a variety of roles within the organization. I got to have first-hand experience of managing APLN's social media platforms and was also given full access to the latest work of our prestigious network members. I not only got to attend staff-wide meetings, but also was encouraged to join any specialized meetings for more internal matters that I may have found interest in, such as social media management or paper commissioning.
One aspect that I believe is special about being an intern at APLN is how involved and hands-on the work is. All interns were treated as integral parts of the team and were trusted with important tasks that I personally think are very unique to the APLN experience. I was given the opportunity to work very closely with each of the secretariat staff, and always felt welcome to voice my opinions and provide my own insight into all the various projects we were working on. It was also very rewarding to be able to attend and have access to all the exclusive events that APLN was involved in while being able to see so many high-profile and prominent figures in the nuclear field. 
Along with these positive experiences, one of the more difficult challenges I had to overcome during my internship was getting used to the fast-paced nature of nuclear policy and research, which was very new to me. Every day there would be a new event to cover, a new article or commentary to review, or a new member activity that needed to be shared with our audience. However, as overwhelming as this may have felt at first, the constant influx of new developments and information proved to be extremely helpful in teaching myself to stay proactive and responsive, as well ask keeping myself up to date on the world's politics, as nuclear policy is such a prominent aspect of international relations and global politics. While in the beginning I struggled to adapt to the work style needed in this field, my time at APLN has taught me to be able to efficiently and effectively live tweet experts at events, summarize lengthy policy briefs and articles, and research the latest policy updates and developments in the quest for nuclear nonproliferation and disarmament. I am confident that these skills will carry over and prove to be helpful skillsets in my future academic and professional goals. 
One of my most memorable moments at APLN was attending the first session of the Nuclear Domino Conference that was held at the Sejong Institute and cohosted by the APLN along with several other organizations earlier this year. I was fortunate enough to attend the international joint seminar in person, though many of the main panelists and speakers participated in the event remotely from their respective locations due to the COVID pandemic. This seminar was an extremely rewarding experience for me, as I was able to work on my live tweeting skills while also getting to experience first-hand a large-scale event featuring a number of prominent figures in nuclear policy. Thanks to APLN, I got to watch experts discuss pressing issues that I had previously only read about and seen in news headlines, a unique and rare experience especially considering the COVID pandemic.  
In terms of who I would recommend as a prospective intern at APLN, I would first like to say, don't think that just because you aren't an international relations major or a political science major, that you are not a good candidate for the internship program here at APLN. As an economics major, I was worried that my lack of expertise and knowledge in IR and nuclear policy would stand as a challenge for me, but rather, it pushed me to learn more and expand my knowledge about a new field that holds so much relevance and importance in global society today. As long as you have the tenacity to learn, work hard, and grow, I believe that APLN and its staff will equip you with the tools that you need to have a successful internship experience. 
The APLN secretariat in Seoul is a tight-knit community that works close together to make sure that all the crucial work of the network is getting out to the public and allowing the APLN to be what it is today, a network and organization that champions the pursuit of nuclear nonproliferation and disarmament. Throughout my internship experience, I felt that I was involved in that process each and every step of the way, and as sad as I am to be leaving, I am excited to see all the positive change and influence that the APLN will achieve next.  
Lauren Kim is a former Research Intern at APLN. She is an undergraduate student pursuing a B.A. in Economics at the University of California, Berkeley. Passionate about educating and promoting a more strategic conversation about international political affairs, she is currently active as the Public Affairs Officer for the Berkeley chapter of the John Quincy Adams Society as a part of her various extracurricular activities. Through JQAS, she has helped organize and lead guided discussion events for students regarding foreign policy and international relations, many of whom were accompanied by guest speakers who are professionals in the field. Her research interests include US and Inter-Korean relations, international trade and security, and U.S. foreign policy regarding the Asia-Pacific.