APLN at the Asia-Pacific Young Leaders Forum
The APLN had two panels at the 1st Asia-Pacific Young Leaders Forum (YLF) hosted by the Jeju Free International City Development Center (JDC) and organized by the East Asia Foundation (EAF).
YLF is a platform for young leaders to discuss common issues around the world such as peace, environment, youth and employment, and to create consensus, pursue peace, and realize sustainable development. The forum's main theme for this year is: "The Role of Youth; Sustainable Development and Peace in Asia-Pacific."
Details for the APLN sessions are as follows:
[Peace] Pathways to Peace on the Korean Peninsula
Moderator : KIM Joon-hyung, Professor of Handong University
Speakers : Jessica LEE, Senior Research Fellow of Quincy Institute
                      LIM Eun-jung, Associate Professor of Kongju National University
                      MUKAI Wakana, Associate Professor, Asia University
                      Hina PANDEY, Former Associate Fellow of Centre for Air Power Studies
November 12, 2021 (Friday) 09:30~10:40 AM KST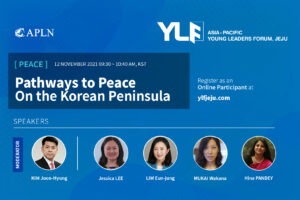 In this panel, young policy experts from across the Asia-Pacific will examine how global, regional, bilateral and unilateral initiatives can help promote peace and disarmament on the Korean peninsula. Topics include: 1) the role of international organizations, treaties, and NGOs in promoting nuclear nonproliferation and disarmament; 2) how crafting a regional security architecture for Northeast Asia could help address security challenges and encourage denuclearization; 3) the ways in which bilateral confidence-building measures can reduce the risk of conflict, including nuclear escalation; and 4) how unilateral measures of restraint can reduce threat perceptions and arms racing dynamics.
[Peace] Promoting Peace and Security in the Asia-Pacific: Young Leaders' Perspectives
Moderator : MOON Chung-in, Vice Chair of Asia-Pacific Leadership Network for Nuclear Non-Proliferation and Disarmament (APLN)
Speakers : LEE Jae-jung, R.O.K National Assembly Member, Democratic Party of Korea
                      Khishi ENKHBAYAR, Foreign Relations Officer, Mongolian People's Party
                      SHIOMURA Ayaka, Member of the House of Councillors, The National Diet of Japan
November 12, 2021 (Friday) 14:00~15:10 PM KST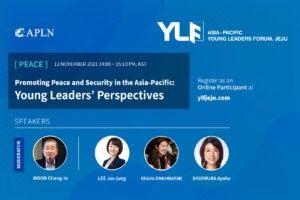 In this panel, prominent young political leaders will offer their perspectives on the most serious security challenges facing the region, from the risk of nuclear war to recurrent pandemics. They offer their personal reflections on what young leaders can do to address these challenges, both in terms of helping shape policy debates in their own countries and by participating in relevant regional and global networks.
Online participants can register to watch the webinar via Zoom or Youtube Live stream. Register for free here.
For more information, please visit the YLF website.