APLN Webinars on Cooperative Solutions for North Korean Denuclearization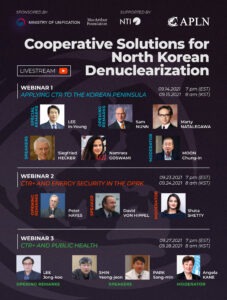 The Asia-Pacific Leadership Network (APLN), with support from the Nuclear Threat Initiative (NTI) is hosting three online webinars in September on the potential for an effective Democratic People's Republic of Korea (DPRK) Cooperative Threat Reduction plus (CTR+) initiative. Sponsored by the Republic of Korea (ROK) Ministry of Unification and the MacArthur Foundation, the webinar will feature special remarks by ROK Minister of Unification Lee In-Young on the topic, "CTR and the Future of Denuclearization in Korea."
The Cooperative Threat Reduction (CTR) program was created by the United States after the dissolution of the Soviet Union to provide financial assistance and technical expertise to secure or eliminate nuclear weapons and other weapons of mass destruction. We refer to such an expanded version of CTR for the DPRK (compared with prior CTR with the former Soviet Union and post-Soviet States) as CTR+. In this approach, the plus refers to the wider scope of activities needed to redeploy the entire nuclear weapons workforce in a relatively short period; and to the need for a multilateral approach to funding strategies and vehicles required to fund and implement a successful CTR+ program in the DPRK.
Senior experts from ROK and US will speak on how to conceptualize and implement CTR+ in the context of a renewed diplomatic approach to the DPRK. Speakers will explore how implementing a CTR program in DPRK can successfully facilitate not only CTR-nuclear, defined narrowly as the shutdown of the DPRK's nuclear weapons program, elimination of its related nuclear weapons facilities, redeployment of nuclear weapons capable personnel and removal of IRBM/ICBMs, but also parallel, linked, and concurrent engagement in other critical sectors of the DPRK economy (i.e. energy, space access trade off for missiles, and public health).
The webinars, which will be live-streamed on our Youtube channel, will feature opening remarks by senior experts and officials, including Founder and Chair of NTI Sam Nunn, Chair of APLN Marty Natelagawa, and Director of Nautilus Institute Dr Peter Hayes, and presentations by experts such as Dr. Siegfried Hecker, former Director of Los Alamos Laboratory.
The public webinars will be followed by private, closed-door workshops.