[Job Advert] Senior Research Adviser, Senior Policy Fellow, and Communications Officer
About Us
The Asia-Pacific Leadership Network for Nuclear Non-Proliferation and Disarmament (APLN), is an NGO and network of political, military, and diplomatic leaders and experts from across the Asia Pacific, working to address global security challenges, with a particular focus on reducing and eliminating nuclear weapons risks.
APLN works to ensure that the diversity of voices from our region are more effectively heard in global security debates to achieve practical policy change. Our activities are focused on addressing strategic rivalry in the region, facilitating dialogue and nuclear risk reduction measures, managing the China-US competition, and promoting nuclear non-proliferation and disarmament. We produce research, host events, and undertake advocacy work.
The APLN secretariat is headquartered in Seoul, South Korea. With a team based in Seoul and in countries across the region, we are looking to recruit talented new people to join our organisation.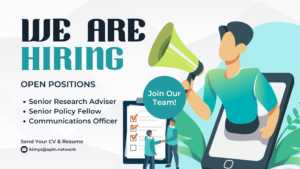 Job Descriptions
How to Apply
To apply, please email your CV and a cover letter detailing how you meet the selection criteria (with Senior Research Adviser/Senior Policy Fellow/Communications Officer in the subject line) to Yoonsoo Kim, APLN Operations Manager, at kimys@apln.network
Please restrict your CV to no more than two pages of A4. This should clearly outline any relevant experience to date.
Please indicate your notice period if you are currently employed, and the city where you will be located if hired.
Please include at least two references.
For any inquiries regarding the application process, contact Yoonsoo Kim at kimys@apln.network