APLN at Jeju Forum 2021: Sustainable Peace, Inclusive Prosperity
The Asia Pacific Leadership Network for Nuclear Non-Proliferation and Disarmament (APLN) and Jeju Peace Institute's Special Online Sessions at Jeju Forum 2021
From 24 June until 26 June, the annual Jeju Forum for Peace and Prosperity 2021 will take place on the theme "Sustainable Peace and Inclusive Prosperity." The Forum will be held in person along with several online sessions. Five APLN special online sessions featuring senior APLN members, senior experts, and international officials including UN High Representative Izumi Nakamitsu, China expert Professor Graham Allison, retired major general of the Chinese People's Liberation Army, Yao Yunzhu, among others. The following sessions will be live-streamed on the Jeju Forum's YouTube channel.
Session 1. The China-US Strategic Rivalry and Consequences for the Asia Pacific Region
June 24 (Thur) at 10:50-12:10 KST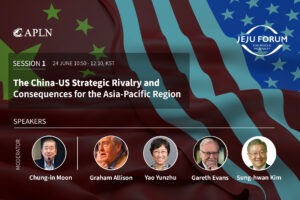 This panel will examine the consequences for the Asia Pacific of the rivalry and tensions between the United States and China. Speakers will address questions including: What is the trajectory of China-US strategic competition and what are the implications for the Asia-Pacific? Is this sustainable for the long term? How has COVID-19 affected relations? How great is the risk of war between China and the United States? How can China and the United States have a less confrontational and more productive relationship? How will the Biden Administration best manage the relationship with China?
Featuring:
Chung-in Moon, Vice Chair of APLN and Chair of Sejong Institute (Moderator)
Graham Allison, Douglas Dillon Professor of Government, Harvard Kennedy School
Yao Yunzhu, Academic Committee Member of the Center for International Security and Strategy at Tsinghua University
Gareth Evans, Chair of APLN and Distinguished Honorary Professor of Australian National University
Sung-hwan Kim, Chair of East Asia Foundation.
Watch panel session here.
Session 2. Mitigating Existential Catastrophic Risks
June 24 (Thur) at 13:30-14:50 KST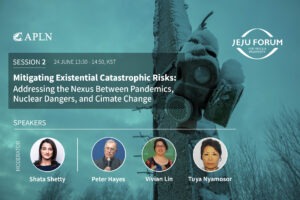 This panel will focus on APLN's pandemic-nuclear-nexus project, which explored the future of nuclear war and nuclear disarmament in light of the uncertainty created by the global coronavirus pandemic. With sixteen urgent steps on mitigating the rising threat of nuclear war in the era of pandemics in the Asia-Pacific and beyond already set, speakers will address the COVID-19 pandemic and its impact in the the health sector and linkages to broader global challenges. 
Featuring:
Shata Shetty, APLN Executive Director (Moderator)
Peter Hayes, Director of Nautilus Institute, and APLN Research Director
Vivian Lin, Professor and Executive Associate Dean of the LKS Faculty of Medicine at The University of Hong Kong
Tuya Nyamosor, former Mongolian Foreign Minister
Watch panel session here.
Session 3. Nuclear Hotlines and Risk Reduction: Past Experiences and Lessons from the Asia Pacific 
June 24 (Thur) at 17:10-18:30 KST
This panel examines the lessons learned from hotline agreements to apply them to managing crises and reducing nuclear risks, especially with existing ROK-DPRK hotlines and agreements in the Asia-Pacific with countries such as China, India, Vietnam, and more. Speakers will discuss how information exchanges and improved communication can promote risk reduction and reduce nuclear escalation.
Featuring:
Tanya Olgivie-White, APLN Senior Research Advisor
Chung-in Moon, APLN Vice-Chair and Chair of Sejong Institute
Peter Hayes, Director of Nautilus Institute and APLN Research Director
Philip Reiner, Chief Executive Director of the Institute for Science and Technology
Jishe Fan, Senior Fellow and Director for Global Governance and International Organizations Studies at the Institute for International Strategic Studies, Party School of the Central Committee of CPC
Watch panel session here.
Session 4. The DPRK Nuclear Quagmire and the Biden Administration
June 25 (Fri) at 09:00-10:20 KST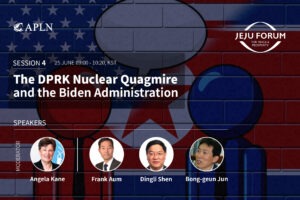 This panel will focus on outlining the newly elected Biden administration's possible DPRK policy and the future of US-DRPK relations since the Hanoi setback in February 2019. With little progress in resolving the North Korean nuclear quagmire, the advent of the Biden administration offered hope of a negotiated settlement through creative diplomacy. Fundamental questions on the Biden administration's ability to make progress will be addressed. Speakers will provide insight on these issues by highlighting group-thinking among decision-makers, assessment of DPRK's nuclear capabilities and threats, and factors and underlying objectives of the Biden administration's overall foreign policy.
Featuring:
Angela Kane, Senior Fellow at the Vienna Center for Disarmament and Non-proliferation and Former UN High Representative for Disarmament Affairs (Moderator)
Frank Aum, Senior Expert on North Korea at the U.S. Institute of Peace
Dingli Shen, Professor and the Former Associate Dean at Fudan University's Institute of International Studies
Bong-geun Jun, Professor at the Department of National Security and Unification Studies at the Institute of Foreign Affairs and National Security
Watch panel session here.
Session 5. Assessing Emerging Technology Developments and the Impact on Nuclear Weapon Risks
June 25 (Fri) at 10:50-12:10 KST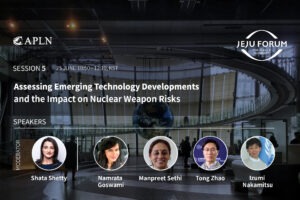 This panel will assess advances in emerging technologies, how they may be exacerbating tensions between states by increasing escalation risks and in particular nuclear weapons use, with a special focus on the Asia Pacific region. Speakers will discuss their views and analyses on technological developments in the Asia-Pacific; the geopolitical, institutional, regional, and global implications; and risks of nuclear weapons use.
Shata Shetty, APLN Executive Director (Moderator)
Namrata Goswami, Independent Scholar and Former Jennings-Randolph Senior Fellow at the United States Institute of Peace
Manpreet Sethi, Distinguished Fellow at the Centre for Air Power Studies, New Delhi
Tong Zhao, Senior Fellow at the Nuclear Policy Program of the Carnegie Endowment for International Peace
Izumi Nakamitsu, UN Under-Secretary-General and High Representative for Disarmament Affairs
Watch panel session here.